REDUCE RISK BY LIMITING THE ATTACK SURFACE OF ENDPOINTS
SENTRIA single-signal gives you advanced protection, deep investigation, and comprehensive threat response for all your endpoints no matter where your users or data are.
WHY IS IT IMPORTANT TO SECURE YOUR ENDPOINTS?
68%
of organizations have experienced endpoint attacks that have successfully compromised their IT infrastructur
51%
of organizations have been affected by ransomware, and cybercriminals have encrypted 73% of such attacks
21 days
is the average time it takes for a company affected by ransomware to restablish it's services.
SIMPLIFY AND SPEED UP CYBERSECURITY INVESTIGATIONS
We combine full packet capture (PCAP) with attack pattern analysis and behavioral analytics to early identify and block threats and suspicious activity on your network. We notify your security team of suspicious activity, which is investigated by our specialized team of Threat Hunters. We determine the threat, its root cause, and then manage the solution supporting your security team.

Traditional antiviruses can't keep up with fast-moving threats. Our comprehensive Single-Signal service gives you advanced endpoint protection for known and unknown malware with AI-powered security that continuously evolves to stop new attacks no matter where your users or data are with 24/7 search, deep investigation, and comprehensive response to threats.
The security capabilities your team needs to anticipate attacks
Real-time communication
SENTRIA Single monitors your network traffic 24 hours a day using proprietary deep packet inspection and advanced behavior analysis
Threat hunting
Our threat hunting specialists investigate suspicious activity, confirm the presence of the threat actor, and prevent operational disruption to your business.
MTTD of minutes
The key to an attack is speed, so minimizing the threat actor's permanence time is our focus, reaching a maximum time of 30 minutes.
Protect all your assets with full visibility
To stop modern attacks, you must choose a solution that outperforms the most advanced and innovative cybercriminals. At SENTRIA, we chose Palo Alto Networks' Cortex XDR™, a proven visibility leader in Forrester's MITER ATT&CK™ framework evaluation, allowing us to deliver the best detection and response SLAs in the market.

The association of the best technology with the best cybersecurity services in Latin America guarantees that our clients obtain positive results in all threat vectors, not only in endpoints.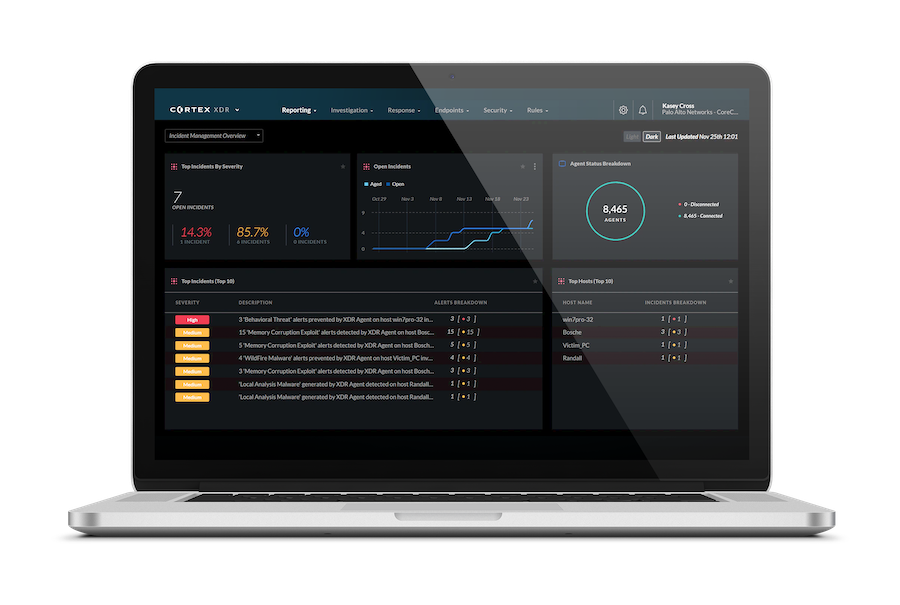 SENTRIA is a fully integrated management, detection and response service with leading technologies from Palo Alto Networks to empower your SecOps team 24/7 and help them anticipate cyberattacks in your cloud, hybrid and on-premises environments. Combining the expertise of Netdata, the world's most capable Palo Alto Networks partner, we redefined the way security services are delivered.