OPTIMIZE AND ACCELERATE YOUR NETWORK SECURITY
Automate and scale incident response and operations across your entire network security infrastructure with SENTRIA Multiple.
LACK OF AUTOMATION AND VISIBILITY REMAIN A RISK FACTOR IN SECURITY OPERATIONS
Manual processes
Managing network security incidents can be a waste of time as it often involves end users, ITOps, network security operations, SOCs, and other stakeholders.
Siloed teams
of organizations have been affected by ransomware, and cybercriminals have encrypted 73% of such attacks.
Limited visibility
As the fact of not relating the data of the firewalls with what happens in the endpoints in an automated way, limits the visibility and therefore the timely detection of threats.
SENTRIA MULTIPLE HELPS YOU INCREASE YOUR VISIBILITY
We accurately detect threats by analyzing rich data with behavioral analytics and machine learning coming from the network and endpoints. Providing a complete picture of each anomalous behavior, allowing our specialized analysts to investigate threats faster than other services. When the threat is identified, we disrupt malicious traffic to minimize the attacker's dwell time and then manage the solution, supporting your security team during times of crisis.
Don't risk it when you're trying to secure your network.
THIS IS HOW WE ANTICIPATE NETWORK ATTACKS
24/7 COVERAGE
Maintaining staff for continuous coverage is difficult and expensive. That is why we offer you permanent coverage with expert analysts who manage alerts, proactively hunt threats and respond according to the SLAs that your business requires.
THREAT DETECTION
Organizations with stable and mature SOCs struggle to find people and time for threat hunting. Leverage our experienced, proactive, and dedicated threat hunters to find today's stealthiest attacks.
MTTD OF MINUTES
The key to an attack is speed, so minimizing the threat actor's permanence time is our focus, reaching a maximum time of 30 minutes.
Protect all your assets with full visibility
To stop modern attacks, you must choose a solution that outperforms the most advanced and innovative cybercriminals. At SENTRIA, we chose Palo Alto Networks' Cortex XDR™, a proven visibility leader in Forrester's MITER ATT&CK™ framework evaluation, allowing us to deliver the best detection and response SLAs in the market.

The association of the best technology with the best cybersecurity services in Latin America guarantees that our clients are safe.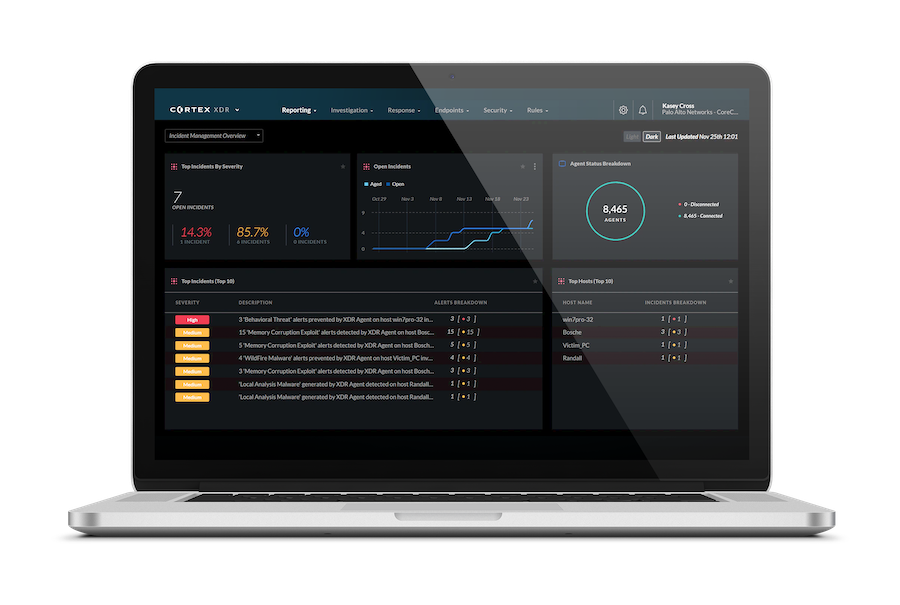 SENTRIA is a fully integrated management, detection and response service with leading technologies from Palo Alto Networks to empower your SecOps team 24/7 and help them anticipate cyberattacks in your cloud, hybrid and on-premises environments. Combining the expertise of Netdata, the world's most capable Palo Alto Networks partner, we redefined the way security services are delivered.